I just noticed that borderless printing on my HP Photosmart Premium C309a printer seems to be impossible since my update from Ubuntu 12.04 LTS to 14.04 LTS (which includes LibreOffice updates as well).
Even choosing paper size "A4 borderless 210x297mm" leads to big blank margins.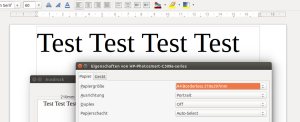 Interestingly, exporting the document to pdf format, opening it in the Ubuntu document viewer and printing it from there seems to work pretty well when selecting paper size "A4 borderless 210x297mm" …
So what's going on here?
Well, I did some research and found that this seems to be a bug in the current LibreOffice version (v4.2.8.2 in my case). See also https://bugs.launchpad.net/hplip/+bug/1289720
I even installed the current version of hplip (v3.15.7) http://hplipopensource.com/hplip-web/index.html, hoping for a wonder but although the installation was easy and successful the problem still persists.
Seems I have to wait for a bugfix of LibreOffice and use the export to pdf workaround for now.